"Sometimes there is only one thing left to say…..PS, I Love You"
– Cecilia Ahern 
The quote is (surprise, surprise) from the novel PS, I Love You. A perfect gift and read for Valentine's Day.
What is it about?
Well, about letters from one lover to another to start with.
Writing letters is often done at the beginning of a romance. Not so in this novel. The letters, that all end with PS, I Love You, are not written at the beginning, but at the end of a romance. The romance does not end because one of the two falls out of love though. The romance ends because one of the two falls ill. Terminally ill.
Holly and Gerry are childhood sweethearts, they marry and the whole picture just looks like a fairy tale, but without the "and they lived happily ever after". Gerry gets a brain tumor and just before Holly turns 30 she is a widow. She does not know how to get on with life after this tragedy, something Gerry had anticipated. That's why he has written 10 notes to her, all with some kind of assignment for Holly, helping her to get on with life and to be happy again.
Prepare yourself with a handkerchief when you start reading the novel, but rest assured: it's a heartwarming one, a loving one, an uplifting one and one that shows the power of love in many ways.
Read on for more details and for discussion questions you may like to use in your book club or for yourself, simply to get more out of your read.
PS, I Love You
Imagine the following: you are nearly 30 years old, you just lost the love of your life and you feel lost and totally devastated and you haven't got a clue how to live again, least of all: how to be happy again. This was how Holly felt after her husband died.
Then one day her mum tells her she's got an envelope for Holly, an envelope she received in the mail just before Gerry's death. In the envelope is a bundle of notes written by Gerry. There are 10 notes, that need to be opened month after month. Each of them contains a tip (well: order actually) from Gerry, gently helping Holly to get on with her life. Every note ends with PS, I Love You.
In the course of the novel we witness Holly looking forward to reading the next note and dutifully doing everything Gerry tells her to do (although not always with the same level of enthusiasm). It starts with Holly going shopping, so she finally gets out of her comfort clothes (jeans and one of Gerry's T-shirts). She does not only get out of her comfort clothes, but also out of her comfort zone by participating in a karaoke contest and by going for a proper job.
Her friends and family support her throughout the novel and in the course of the novel we witness, like Holly does, how life goes on around her. Family and friends move on. This isn't always easy, but healing in some sort of way as well. The love she feels from her family and friends cannot compensate for Gerry's love, but it helps her healing process. Gerry's final note tells her not to be afraid to love again.
To give you an impression of the uplifting, wise and loving words of Gerry:
"Shoot for the moon, even if you fail, you'll land among the stars."
"Remember our wonderful memories, but please don't be afraid to make some more."
"Don't be afraid to fall in love again. Open your heart and follow where it leads you…and remember, shoot for the moon."
Postscript
How can a story like this go on? Well, there is always one more thing to say…and that gets done in the novel Postscript.
In Postscript we meet Holly again, 7 years after Gerry's death. After having spoken about Gerry's death and his letters on her sister Ciara's podcast, Holly is approached by 4 terminally ill people, who are asking for her help in their saying goodbyes to their loved-ones. Holly does not know what to do. She so wants to continue her life. She is finally moving forward and is afraid that by helping these people she will move backwards again.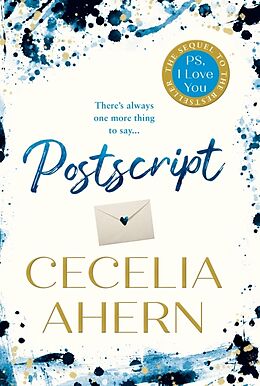 But of course she offers her help and we as readers get to know a more mature Holly, a more mature writing style of Cecilia Ahern (not that surprisingly after having written 15 more books in 15 years😉). But most importantly, this novel offers a beautiful insight how grief can evolve and linger over time.
Postscript can be read as a sequel as well as on its own.
The two novels have in common that you'd better prepare yourself with a handkerchief when you start reading them. But rest assured: they are both heartwarming, easy to read and loving and uplifting novels that show the power of love in many aspects.
Thank you for reading and happy Valentine's Day!
Love,
Lieske
PS 1:
For those of you in an absolute Valentine's mood, here are two more Valentine blogposts for you to enjoy: This one is all about a Valentine's outfit and a way to spoil loved-ones. In this blogpost you can read how I got to Venice, one of the most romantic places you can visit with your lover!
PS 2:
I have got some bookclub questions for you for PS, I Love You as well as a great link to order the books.
Useful links:
When you go to Cecilia Ahern's website you can easily order PS I love you. Of course you can also order the sequel there: Postscript.
Discussion questions for your book club
"PS, I Love You"
Here are some discussion ideas. The first ones can be discussed spontaneously. The second group of questions may get more value when looked at while reading, so before the actual book club meeting.
1. Who is narrating PS, I Love You? How does this affect the novel?
2. Where is the story located? What affect, if any, does location make to the story? Why?
3. What/when is the climax in this novel?
Climax: The high point of the action, when the conflict or problem could either be resolved or cause a character's downfall.
4. What/when is the resolution?
Resolution: The conflict or problem is solved and normalcy or a new order is restored.
5. Look at the first two paragraphs of chapter one. What is going on? What information does Cecelia Ahern provide at this early stage to set up the story that follows?
6. Do you consider Holly brave for coping the way she did when her husband died, or is it simply something  you have to do (a bit like Ciara felt about bungee jumping)? Discuss these two opinions.
7. Holly isn't the only one moving on in this novel. Discuss who else experiences a transformation in PS, I Love You. Why is it important that we see the characters moving on?
8. How would you describe Holly at the beginning and at the end of the novel. Who was she and who has she become?
9. Which item or items on the list have moved you the most? Why?
10. Cecilia Ahern uses a garden as a metaphor. For what? What other metaphors have you found in this novel and how do they enrich the storyline?
11. What do you think of Gerry's last letter? Do you think one year is too soon for Holly and if so or if not so, why do you think this?
12. There are many different covers of this novels. Discuss the different ones and what you think of them. Which one appeals most and why? What would you like to put on the cover of this novel.
13. How (if) has PS, I Love You affected you? Has it maybe had an impact on your close relationship(s)? Share it with your book club members if you feel comfortable doing so.
Questions that work better when looked at before the discussion evening. You can opt as a book club to select the ones that sound attractive and decide who is looking into which one.
1 Research the life of the author. Cecilia Ahern was only 21 when she wrote this novel. Does it show? If so, how? What autobiographic elements can you find in this novel?
2.This novel knows many interesting characters. Study a character into more detail while reading and report during your discussion night. Think about Holly and Gerry, but also about Holly's family. Let someone get to know her mum better, her eldest brother Richard and her only sister Ciara. Holly's friends also play a role in the novel, so you can also opt for these characters, such as Sharon and Denise. And then there is Daniel…
3. Let someone make notes of some sentences that you are sure stuck out for many of you. See also the few examples in my blogpost. There are many more beauties to be found.