"All the darkness in the world cannot extinguish the light of a single candle." 
– Francis of Assisi
On the second Sunday of December it is Worldwide Candle Lighting Day. People around the world come together to light candles for children who have lived tragically short lives for any number of reasons; sickness, accidents, war… The candles show that they will always be loved and never forgotten. The candles are lit at 7 pm local time, meaning that a consistent warm glow passes around the planet for a full 24-hour day.
I am not just writing this, because last Sunday was the second Sunday of December, but also because the loss of a child and how to live on after that tragedy is the central theme of the novel "The Wisdom of Sally Red Shoes" by Ruth Hogan, a novel I can highly recommend.
When you think you are in for a very depressive read with this novel, well…..think again! The novel has an uplifting tone and message, shows the power of friendships, makes you feel the warmth of gathering together and addresses the heavy subject in a very respectful manner. Quite an accomplishment. There is lots of humour in the novel as well and it is written in an easy yet beautiful English style, including lots of Britishness.
For all of you who love feel-good novels, adore the English language & landscape and especially for those of you who have to miss someone dear this Xmas, treat yourself on this fabulous read! For a full review, please continue reading.
 The Wisdom of Sally Red Shoes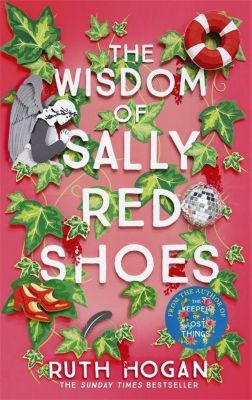 Meet Masha
In this novel we get to know two women who are suffering from the loss of their child(ren). Masha is one of them.
Twelve years ago her son Gabriel drowned and she has felt guilty ever since. She tries to live on, but cannot really. Every day she visits the local cemetery with her dog Haizum. For Masha the cemetery is an oasis of rest and quietness.
She often talks to her "family and friends on the other side", making up stories about the lives of the ones buried. She can talk openly to her "family and friends on the other side" about her sorrows and struggles. That's something she cannot do with her real friends and family. Maybe it is because it has been 12 years and everyone around her has moved on. Maybe it is because it is hard to express grief and mourning. Maybe it is because in today's society we do not really talk about death and the dead.
Whatever the reason(s), Masha feels at ease and comfortable at the cemetery and it is there where she meets Sally, an elderly eccentric woman wearing red shoes, who seems to be homeless and slightly weird, using curses and bad language as a greeting. It is this Sally who manages to convince Masha it is time to start living again.
Eccentric experts on life lessons
Sally's wisdom lies in a statement that changes Masha's life and this moment is the turning point in the novel's plot:
'When the music ends for someone you love you don't stop dancing. You dance for them as well.'
We witness Masha change. Before meeting Sally she went to the local pool to experience a "nearly drown experience" on a daily basis (maybe as an attempt to feel close to Gabriel, maybe as a punishment, maybe for both reasons). After Sally's wise words Masha still goes to the swimming pool, but now to enjoy a good swim. Before Sally's wise words Masha often mentally quoted Lady T (Lady Troubridge, the author of The Book of Etiquette). As a reader you get the feeling that Lady T offers some sort of structure in a life totally turned apart. Masha keeps quoting Lady T throughout the novel, but starts ignoring her advices more and more the better she gets at living!
Kitty, another slightly eccentric and elderly lady, pushes Masha further on the path of healing by telling her how she has managed to live on after her tragic loss:
'Because I believed that one day, the joy of being alive would be brighter than the despair that my Joy was dead.'
Masha learns two important things from Kitty: that it is possible to experience the joy of living again and that we do not always know what has gone on in someone's life.
Alice, who the….is Alice?
This brings us to mysterious Alice. Alice is the other woman in the novel, who we follow closely. She is suffering from the loss of several premature babies and may therefor be overly protective of her only child Mattie. She has no friends at all and when she gets seriously ill, she bears the burden alone (as does Mattie). It is through her illness that she finally manages to reach out to others.
Love your life, live your life!
I do not want to spoil how Ruth Hogan unravels the story bit by bit, since that is a discovery journey you should enjoy while reading. You will meet many interesting and warm characters on this journey: Masha's stubborn father, her mother, colleagues and dear friends (Sally, Kitty and many more), her dog and the Olympian, a very attractive swimmer.
Reading this novel makes you aware how lonely a person in mourning can be and how addictive mourning can become. You feel how hard it is to help a loved one who is grieving and also how much this person needs other people for support and understanding as well as for the "kick in the ass" at the right moment too.
Although the setting of the novel is for a big part on a cemetery and in a swimming pool (the one in which Masha practices and fine-tunes her act of nearly drowning), it is by no means a sinister novel. On the contrary, it is a book with lots of (British) humour and full of warmth and positivity.
I think that at a certain age we all have lost (a) loved one(s) and know others who have so too. The message of the novel is that we will never forget them, that we can support the ones left behind and that it is absolutely OK to enjoy life to the fullest, even after having lost (a) loved one(s).
Carpe Diem!
Love,
Lieske